Udemy VS. Teachable
Selling an online course, on the internet, is one of the popular ways of generating income indeed! People having a knack for a particular skill have an opportunity to provide services online. Presently, various online platforms allow people to create courses and sell them, either helping them generate income or learning skills.
This article will draw your attention to:
A fair comparison between two of the popular platforms: Teachable vs. udemy.

Udemy fees

Teachable fees

Teachable courses list

The website teachable.com reviews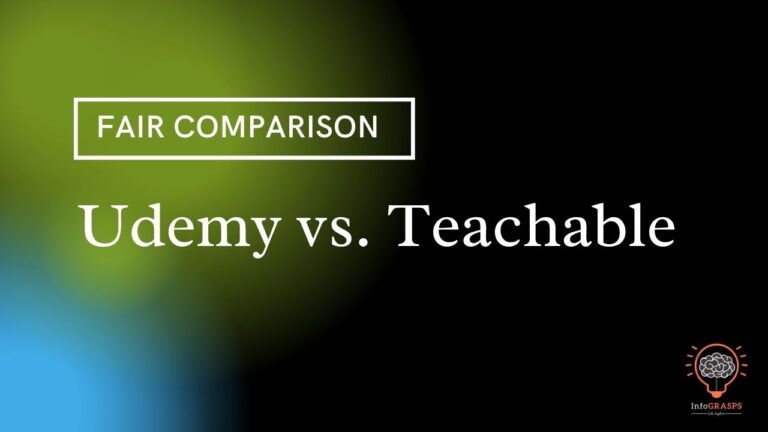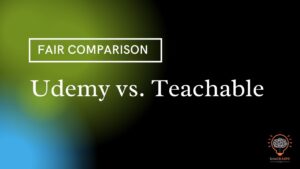 The question that strikes in mind, "What platform should I use?" Well, that depends on the use. First, you have to be familiar with both of these platforms to select the right tool.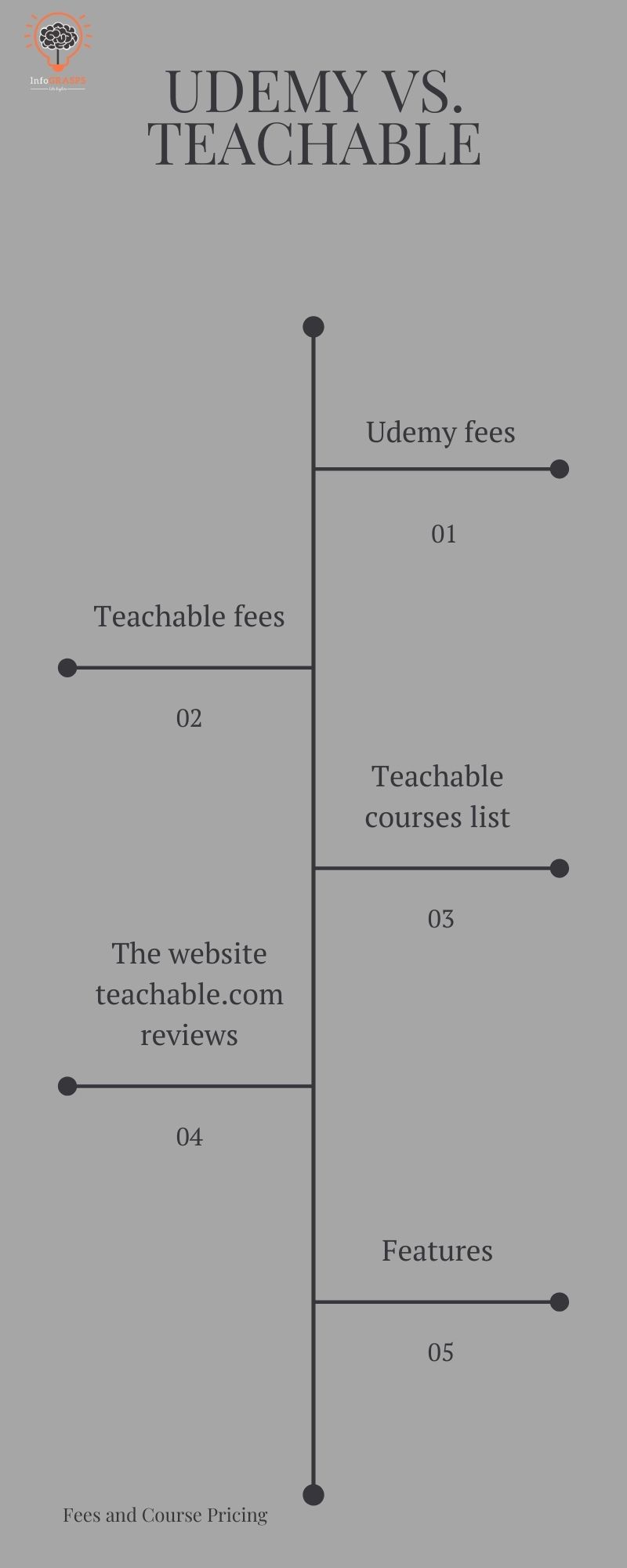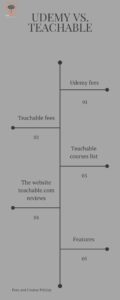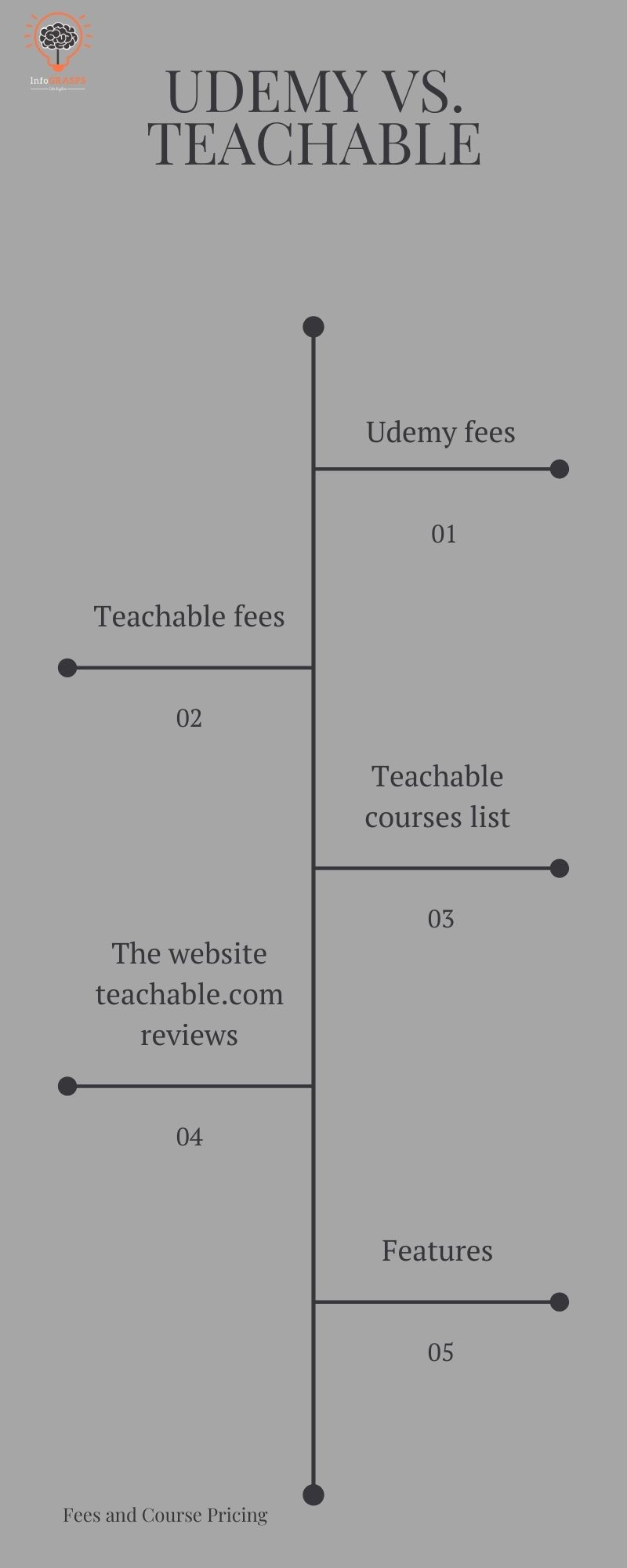 Udemy, an online creation platform, allows people to learn, teach, and sell your courses. On the other hand, Teachable is an online coaching platform that enables you to list and sell your courses.
Udemy vs. Teachable: Which one is right for you?
Factors to consider deciding the right tool are:
Features:
Udemy allows you to create both free and paid courses in reasonable Udemy fees. Due to the vast community in Udemy, it stands out in terms of promotions, services, and advertisements. It comes up with an advantage of external partnerships and encouragement of promotional videos, which escalates your courses' reach to new members. The service of action-based email, providing instructors with an option to create quizzes and assignments, creates more engagement between the students and instructor.
Since the courses are categorized and through one click, the student has access to everything from the title to the course's expected learning outcomes, making Udemy easier to use. Once students complete a course, they are provided a competition certificate. Students are allowed to enjoy paid courses after paying the Udemy fees.
Keeping in mind all the features that stand out Udemy, there are two significant drawbacks: Your course needs to be approved or meet particular criteria, and it does not allow enough customization of your page, which makes it challenging to be stand out.
On the other hand, teachable allows you to sell your services and will enable you to build your website. There is no teachable fee on free courses and a proper pricing plan covers the other paid teachable courses list. The page layout can be a differentiating factor that may help convert the visitors into customers, which teachable allows.


Teachable would help you create your domain, and as it provides full access, it does not interfere with your branding, which gives the instructor complete creative freedom. The instructor does not face any hindrance while publishing the course as it does not require to meet any specific criteria. Moreover, it allows instructors to see the entire performance of their students.
Although teachable offers you a lot of flexibility compared to Udemy; however, marketing is the major downside. Teachable does not market your courses; it is your responsibility to market your course.
Fees and Course Pricing
While talking about Udemy VS. Teachable, Udemy takes no fees to sign up and allows everyone to join and upload as much content as you want. One of the motives of an instructor behind publishing content is to generate income. "Which platform could help me earn more?"
When it comes to Udemy vs. Teachable, it becomes very tricky because Udemy marketing helps the course be promoted and allows the instructor to price the course with a limit of $20-$200. Still, its share policy takes up 50% of the revenue generated in case there is an organic order through Udemy that leaves 50%  behind for the instructor, and most of the time, you would find your course on sale, and that might result in a massive percentage of loss. At the same time, if a student orders your course through a coupon code, you get 97% of the revenue generated.


On the other hand, you have to pay teachable fee to sign up, which is categorized into three packages:
Basic – $29 per month with a 5% transaction fee.

Professional – $79 per month with no transaction fee.

Business – $399 per month with no transaction fee.
After a detailed comparison of Udemy vs. Teachable, it is clear enough to select the tool which meets your requirements. Despite people who want to target a bigger audience, who want to work on a popular niche, Udemy would be the best choice for them as they promote their content. However, Teachable is suitable for people who want to set up their businesses and have full access to everything.
This is one of the very short teachable.com reviews which clearly explains the benefits of using this website. It gives an extra edge to Teachable since people will visit YOUR website, purchase YOUR product, and it will build up YOUR customer base.