Is Tubebuddy Safe and Useful?
Before jumping to the question: is tube buddy safe or not? Let's find out what is tubebuddy first. It's a free browser extension that directly integrates into youtube. It helps to increase your subscribers and also helps in smooth and easy running of your channel. Many people out there want to use tube buddy free, but their fears, such as fear of losing their data and youtube channel or being hacked, do not allow them to go for tubebuddy. Most people don't use such apps and tools before confirming if these are safe or not. This article will try my best to answer all your queries about tubebuddy and give you a short tube buddy review.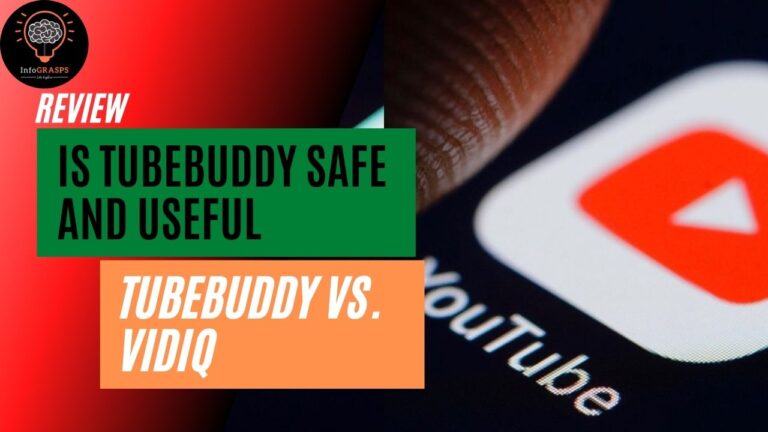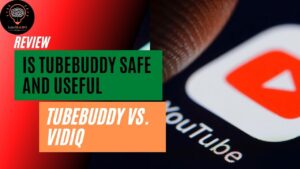 Is Tubebuddy Safe:
Tubebuddy is useful for your youtube channel; in fact, it is also very safe. Many people are using tubebuddy for their tracks, but they have not reported any issue or security concern about it, so it is very safe for everyone. Tube buddy reviews are always right. A whole organized team is working behind tubebuddy. Moreover, they also have a youtube channel with an excellent reputation with almost more than 250 K subscribers, which depicts that this is not a scam. Let's quickly go through the tube buddy review.
Data collection of Tubebuddy:
One of the major concerns of users about using tube buddy free is the security of their data. Shortly, we can say the answer to the question, is tubebuddy safe or not, is yes. But safety is your responsibility too. Your login and account details should not be shared with anyone, and you should make sure that your device is safe and only accessible to you. Tubebuddy page of privacy policy clearly explains the collection of data from their users.
PayPal's very trusted company processes the payment information of tubebuddy customers who opt for premium plans of tubebuddy.

Personal information, for example, names, Gmail, etc., is collected for contacting and identification purposes, and this information is gathered while you are signing in with your Google account.

Moreover, tubebuddy also collects some other data, including your browser information, access times, and IP address.
Almost all well-known websites, such as mercari, Amazon, eBay, etc., ask for this information. So all your data with tubebuddy is entirely safe and secure. 
Tubebuddy vs. vidiq
Tubebuddy is a perfect and secure tool for users to grow their youtube channels fast. But another handy tool vidiq, also has some benefits. Let's first find out what vidiq is? We will then try to look at a short review on tubebuddy vs. vidiq and will try to find out which one is better for you, and how is that one better? Is vidIQ safe or not?
Vidiq is a chrome extension of youtube, which allows you to grow audiences of your youtube videos. So the answer to the question, "is vidiq safe?" is yes. Vidiq is a safe and legitimate website. 
Which one is better? Tubebuddy vs. vidIQ:
When we have to choose between tubebuddy and vidiq it has been not easy always. Because both of these have their importance, mostly when we talk about the vidiq and tube buddy free versions, but looking at both platforms will help us to understand their strengths better.
A short tube buddy review:
Video analysis:
The video analysis tools of both platforms are excellent. Both provide detailed information about the videos. These tools not only allow you to see your performances of youtube videos, but you can also see your competitor's versions. Your video performances can be easily judged using these two tools. Many options, such as looking at your social share info, channel statistics, video tags, and sharing views can be enjoyed using these tools. A detailed performance chart of the youtube rankings can also be seen using these tools to better understand your position compared with your competitor. Tubebuddy allows you to copy the tags to tag lists. On the other hand, vidIQ provides detailed statistics for both channels and videos.
Video upload:
Every stage furnishes you with alternatives for adding recommended labels while likewise including transfer agendas to ensure you're covering all premise with your uploading data.
Tubebuddy gives you an option to create profiles and accounts and adds many other features to the video, such as a thumbnail generator and end cards.
Is TubeBuddy Safe
TubeBuddy is indeed safe to use on your YouTube channel because it does have a strict policy that all users must follow. Most-trusted YouTube creators are already using it, and until now, there has been no report in terms of safety with it whatsoever.
The company behind TubeBuddy has made it very clear that they are an open-source project. They don't hide this fact, and they do promote it to potential clients. This means that you can go to their website and see all of the details about the product. Once you know precisely what you are getting into, you won't be disappointed.
Guidelines
You need to follow specific guidelines when you are looking to use TubeBuddy on your channel. First of all, the creators need to have their channel active for at least three months before uploading their videos. If they are inactive for that long, they have a valid reason for it, and you can't upload them.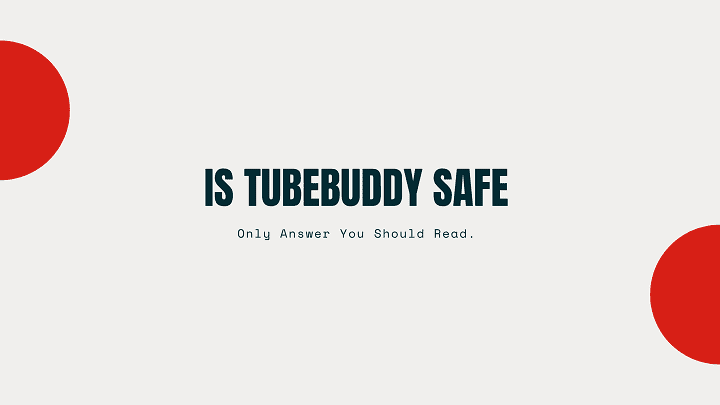 You should also make sure that your videos will be acceptable and legal before you even go through with using TubeBuddy Safe. This includes your Video's quality, which they will check to ensure that it is appropriate for YouTube. You can also make sure that your Video shows content relevant to your niche, and it is not spamming.
You can find all of the information you need to know about TubeBuddy in their FAQ. If you want more information, you can visit their website or the link below to see everything you need to know.
Is TubeBuddy Safe for Data?
No matter how safe TubeBuddy sounds, it would help if you still kept your users safe from predators to keep them coming back to your channel. As long as you're using an up to date system, you will have no trouble doing this. And it will undoubtedly keep your site secure. So if you are considering adding TubeBuddy to your website, go ahead and do so.
If you need a little extra help with your Tube Buddy installation, then you can always hire a professional. The fact that the creators of TubeBuddy Safe have included several safety guides on their website shows that they put a lot of care into making this product and ensuring that it's safe to use. If you are worried about the process, it might be a good idea to hire someone to install you.
These safety guides will provide a step by step guide on how to get everything set up. You will be able to make the videos that you need to attract your users and get the attention they need to make your videos successful.
TubeBuddy isn't the only video creation tool out there, but it may be the easiest one for new and inexperienced creators to use on their site. So if you are thinking about using it, you shouldn't hesitate to do so.
Tubebuddy safe Review
What to Look For When Choosing Your Channel 
There's no better way to find out if a tube buddy review is as good as it sounds than to try it yourself. When I was shopping for one, I read lots of them and was amazed by the information. The majority of them seemed like reviews from amateur hobbyists who had never even used the product before, but there was some excellent information in them as well. If you are someone who wants a tube buddy, or you're looking for a tube buddy review, this is the right place to start.
TubeBuddy For YouTube – A Free Web Video App
Tubebuddy software utilities make it easier to manage, upload and share your channel on YouTube. TubeBuddy allows you to share your content across social media and will enable you to create an audience that shares the same interests as you do. TubeBuddy can be used as a standalone tool for channel management or as part of Tubemate, which is a subscription-based video marketing service.
TubeBuddy Extension
TubeBuddy for Video is a web browser plugin and a mobile application that works as a standalone application and a subscriber-based video marketing service. It is a convenient toolkit for managing your channel as well as optimizing videos on YouTube. The TubeBuddy app can be installed via Google Play and installed on Android devices. The app is designed to work with all platforms, including Firefox and Safari.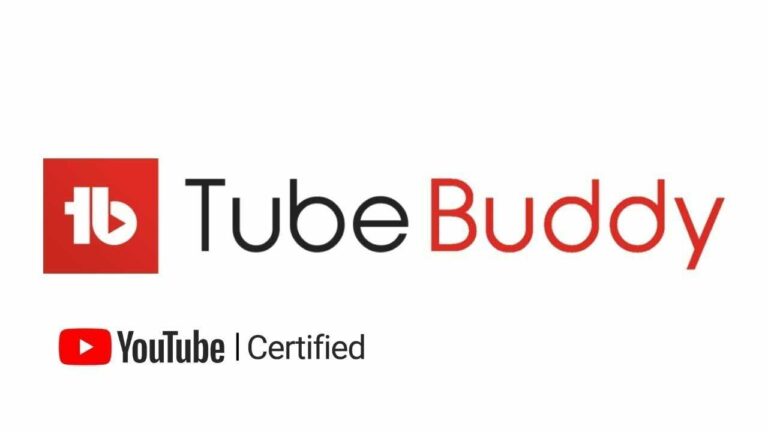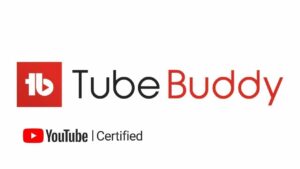 TubeBuddy features a unique "tour" feature that allows users to take advantage of their custom features. This tour feature enables you to upload new and creative videos to YouTube and gives you the chance to see what the different video editing tools look like. The tour also features an "Embed Video" feature, which allows users to embed YouTube videos directly from their site without uploading it to YouTube first. This will enable users to share their videos now from their sites.
TubeBuddy also offers "Upload to MySpace" functionality, which lets users easily share their videos with their existing social network. The Upload To MySpace feature is only available on the Web browser, while the mobile applications offer a more user-friendly way to upload your videos. TubeBuddy users can also upload directly to Facebook by following the instructions in the Facebook Mobile Application.
Tubemate, the subscription-based video marketing service that supports TubeBuddy provides subscribers with a variety of video marketing tools for optimizing their videos and growing their audiences. You can customize your website to include a list of keywords or choose to use a custom URL shortening service. When using a URL shortener, you can change the URL's domain name to your own. This ensures that you get high search engine rankings for your URL.
TubeBuddy Safe users can submit their videos to various article directories, including EzineArticles, ArticleBase, and GoArticles. These directories are free to submit articles to, and they are also great places to market your videos. They also provide links to your website that have a chance to be linked to your Video. Additionally, when submitting your videos to these directories, you can provide a bio box, which lets your subscribers know where to find out more about your business.
What is VidiQ Vs Tube Buddy?
If you are a newbie to the world of search engine optimization or even if you are an existing marketer, you may have heard of Vidiq vs Tubebuddy. This is a search engine marketing strategy that is gaining much popularity among online marketers. It is also popular among people who have been in the SEO industry for quite some time and want to try something new. As the name suggests, VidiQ and Tube Buddy are two systems that can be used in search engine marketing and SEO. According to experts in the industry, it is not an excellent strategy to operate simultaneously.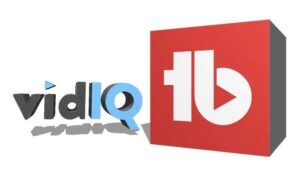 We will be comparing VidiQ vs. Tube Buddy to help you determine which is the best choice for you. In the latest report from SEM Pulse, VidiQ ranks first while Tube Buddy is ranking third. And while Tube Buddy does offer some SEO tools like SEO Spy and some tools to automate tasks, VidiQ does provide more value in the form of tools, training, software, and training. There is no reason why you should use both.
The only thing that Tube Buddy has going for is its reputation and the number of searches it gets each day. If you are looking for a system that will automatically boost your search engine rankings, it is perfect. And if you are looking for a plan that will automate specific tasks and give you some SEO tools, VidiQ might be a better choice. If you are looking for an SEO friendly system and will help you drive more targeted traffic to your website, VidiQ might be a better option because you can use their SEO Tools like SEO Spy and other tools to optimize your web site. And if you are looking for a system that will help you build a network of customers or clients, it might be better for you to go for the one that will help you gain more exposure by helping you with traffic building. Both systems have their pros and cons.
Conclusion:
Tube buddy free, and its premium plans are worth using and completely safe. Both tubebuddy and vidiq are excellent platforms with their strengths if you want to grow your channel. And the answer to is vidiq safe is yes.